Blog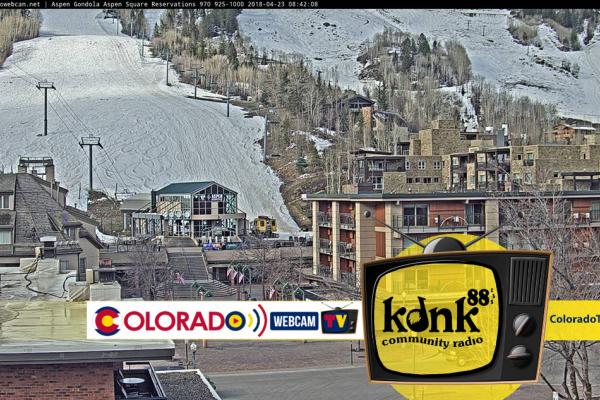 What's New for 2022, COLORADOTV is new and its great.
I started a 24-7-365 TV channel and am publishing it on our website camera #1, on ROKU Channel "Coloradowebcam", and direct WEB version www.coloradotv.net.
NOW WITH KDNK AUDIO.
This is been a vision of mine for the past few years, the webcam obsession continues to evolve.  When you have 120 webcam views produced, what do you do next?  You create an auto switching TV channel of those views.  This is the idea behind the COLORADOTV product and I personally think it is a winner.  The first channel is a tour of Colorado as the bird flies.  The tour starts in the Front Range Boulder, Denver, I70 Idaho Springs, Georgetown, Granby, Grand Lake, North to WY, and then South Spanish Peaks.  Then the mountain regions Crestone, Buena Vista, Salida, Beaver Creek, Glenwood Springs, Roaring Fork, Aspen, Snowmass, Rifle.  Then North West corner to Dinosaur, and South West Ridgeway and Ouray.  These are 99% our webcam productions and now that the systems are created we will reach to other webcam productions to offer their cams be added the live channel.  So over time I expect the tour to grow.  Over time I expect to add more channels, one for Upper Michigan, maybe one just for SKI-MOUNTAINS shots.  It cost to produce each channel and systems must be monitored.
Viewed from a big TV and controlled through your TV remote is the best experience.  No better weather sample then seeing with your own eyes what the conditions are.  Since Colorado has very regional weather this is the best live weather tool without question.  Right now it is a complete organic experience and we are not monetizing it with ads yet, it will need to be monetized at some point.  This is becoming a very expensive project to produce.  But I think worth the expense.
The switching TV channel currently has all the AUDIO shut off.  Some webcams do have audio, but most do not carry an audio track.  This brought the thought of what could be done with the AUDIO track, and I reached out to some Colorado Radio Stations to see if there were any innovative thinkers there.  Let's just say you all are lucky I am making this happen as most people do not see the same thing I see very clearly.  Yet we are talking with KDNK and they are mulling over the idea of running the Live Radio Track over the Live Video I have created.  There is also the thought of broadcasting my own Radio Station or music track, but I would rather find the right fit.  I will give the AUDIO track some time to develop and in the future we may have audio to tune is as well.  But the Video without any audio is a great experience and makes a great visual for the room without any noise disruption.  I stopped the noisy TV shows and put this up and play some great music to set the environment.
Viewing the Channel is LIVE so at night its dark for many cams and you will get a different experience throughout the day and night.  I do have day programming and night no moon programming and night with moon programming to try to deliver good cams and not blacked out dark nighttime shots for cams that do not perform at night due to no light.  Also the cams are computer dependent on the internet working and your site where you are viewing needs good internet too to make a stream work.  At any time any single cam may go down.  We experience about 10% failure at any time which is about 12 webcams that need service at any time.  We try to repair over the phone first, and then have to make a site visit to repair.  Burned out Power Packs, Burned out Webcams, Cable Failures, Internet Issues, Router programming issues, Nature and Wildlife issues, Bad Weather, tampering of the equipment are all probable in causing failures.
As of 12/27/2021 we have been live for about two weeks.  I think this is our future and I expect many to follow my example down the road.  When others copy your work that means you're doing it right. Merry Christmas & Happy New Year 2022 here we come.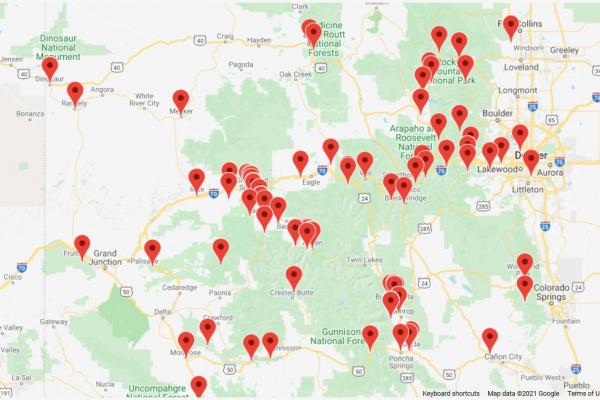 I finally was able to get the new Coloradowebcam.net website launched after 2 years of development.
I can say the new version is much better, much deeper in function.
You should LOG INTO THE SITE AND CREATE AN ACCOUNT TO GET FULL WEBSITE FUNCTIONS.
The ColoradoTV feature has not yet been integrated.  The function for picking your own webcam list and webcam order did get developed and is working.
That function is what I will need to program ColoradoTV, pick you own camera list and order, and I build an auto player that you can send to your TV.
Again you can demo the prototype at my domain  www.coloradotv.net and I will get this programed in the upcoming revision.
The site has a lot of new content.  The CDOT routes have been improved and expanded. The CDOT cams change often, so it takes regular maintenance to keep them working.
The site has a new group of webcam landing pages for each ski resort in Colorado.  Webcams and resources are available on the SKI RESORT landing page for that resort.  Links to Trail Maps, Grooming Reports, Lift Status, Weather Report are all available on the SKI RESORT landing pages.  That data is very dynamic so I go back from time to time and make adjustments.
The MAP section is working well, showing all the cams on the site.  You can also chose a smaller subgroup selection of TYPE or LOCATION group.
The HOME PAGE has a best of AUTO PLAYER that comes up and Graphic Buttons for Types and Locations groups contained on the site.  
The HELPFUL LINKS page has links to a lot of MAPS as well as links to transportation options and car rentals.
The Gallery is all new and each webcam now has a custom gallery of best of shots.  There are also some legacy webcam shots in the gallery lists.
There are two main display types that work for DESKTOP viewers.  MOBILE viewers will get a single column presentation.  Desktop viewers will have an option to chose a GRID VIEW or a LARGE VIEW.  Grid view will be 3 cams per row, and LARGE view will be 1 camera per row.
Logged In User will make the site create a MY CAM LIST for that user.  Each time you return you can go to your Favorite Cam List with MY CAM LIST.
Logged In User will be able to select cams from the list pages to be in their MY CAM LIST.  On the top right of the image is a toggle button to add or remove from MY CAM LIST. Up to 6 for a FREE USER, Unlimited for PAID USER.  You must be logged in for this to work.  The button is on the top left menu EDIT MY CAM LIST.
Logged In User will be able to change the order of the cam on MY CAM LIST. Up to 6 for a FREE USER, Unlimited for PAID USER.  You must be logged in for this to work.  The button is on the top left menu EDIT MY CAM LIST.
There is a new QUICK PLAY BUTTON that appears on the list pages.  This button is enabled for PAID USERS.  It provides a quick way to browse all live streams without leaving the list page.  At this point I cannot enable it for free users, the code is set for only PAID USERS.  The function makes the site work very well.  Contact me if you are interested in a demo.
PAID USERS get a very nice AD FREE experience and LONGER TIMEOUTS as well as the powerful QUICK PLAY button.  The Paid version will really help with mounting costs in cameras, and streaming, and website programing, and servers, as well as field work.  Google Ads do not pay very well, only for Google do the ads pay well.  Ad interaction with the Ads does generate income, but most viewers train themselves to not look at them or interact with them, understandable.
I will start to try to feature some key CDOT cams into the main list pages for some of CDOT featured cameras that would improve the list views we have.  I added a final landing page for each CDOT webcam we have with a map location and more information if it is available.  The camera images are blown up as well since they are very low resolution.  This makes the view for the DESKTOP viewer much better I feel.  The image may become a little distorted, but much bigger.
This summer 2021 I went in the field for two months and deployed webcams in Elkader Iowa and Upper Peninsula of Michigan based in Crystal Falls Michigan, Iron River in Iron County Michigan, and Florence Wisconsin.  These webcams have their own base hard coded startup websites.  They are also integrated into this website. Yooperwebcam.com and Iowawebcam.com are the local hard coded startups.  Some 16 Streams were deployed on this trip.  I will do more next year most likely.
I hope you enjoy the new version and all the hard work that I put into this project.  I have over 120 webcams purchased and deployed now.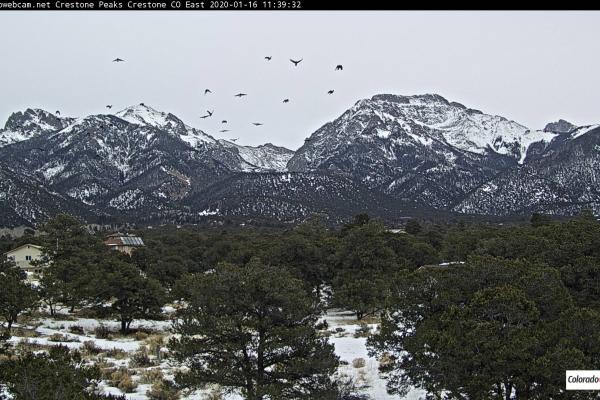 Colorado Webcam January 2021.
From the Owner Developer Tom Started 2002, full time on this project since 2018:
Despite the pandemic, I was able to grow the webcam network in both viewers and cameras.  My goal for 2020 was to reach 100 webcams deployed, and I did reach that goal.  I installed three high quality Pan Tilt Zoom PTZ 30X cams in Chaffee County with laser zoom vs digital image zoom, and a PTZ motor that can see above and below the horizon. I worked closely with Chaffee County, and Colorado Central Telecom to expand out the Buena Vista, Poncha Springs, and Salida area.  I also expanded into Grand Lake and Lake Granby in 2020.  I lost some good sites too in crested butte, and Idaho Springs, host sites can change ownership and lose interest in supporting the project that is the nature of the business, it is built on relationships.  I was able to find a new site in Idaho Springs that is working out good, and I will get back into Crested Butte when I find a host site.
A second goal for 2020 was a new website with some new design features.  I wanted to have an ad free paid user option.  I wanted to add my COLORADOTV prototype into the website, which is a development I have working that plays a TV channel of live Colorado Webcams.  I wanted to allow users to pick their own webcam list and webcam order.  A new better organized, deeper content, and newer look, this was the goal.  The new site is well on the way and getting close to publishing, should be live 2021.
Goals for 2021.
Fine tune the new web production it is just at the starting line.  I want to develop an automatic smart email engine to send webcam snapshots to viewers who want them a key times of the day, sunrise, sunset, night, afternoon.  I have to focus more on sales and relationships with regional tourism leaders and host sites, not my favorite thing to do, sales, but everything falls on your developer make this work. Increase daily visits & work on raising revenue for operations.
Moving forward with the project.
ColoradoWebCam is a great project, I knew this back in 2002 with my first webcam in Snowmass.  I have personally built it and paid for it to bring it to a 100 webcam network, and it is at a point that it can support itself.  But, there is no way around the fact that this project is costly and must be monetized in order to grow and support itself.  It grew because I worked for free and I bought all the webcams and did not ask the host site to pay for the deployment, even though they benefited from the advertising.  It worked because of Web Servers, and Web Development and Programing.  It worked because I paid for the monthly streams, at 100 webcams the bill is $1000 month for that.  Moving forward I will have to increase the site earnings.  Fundraising, Working with State and County and City tourism, Premium Paid Users, Adsence Revenue, Webcam Branding & Watermarks, and ColoradoTV Digital Signage are going to support the growth of the project.